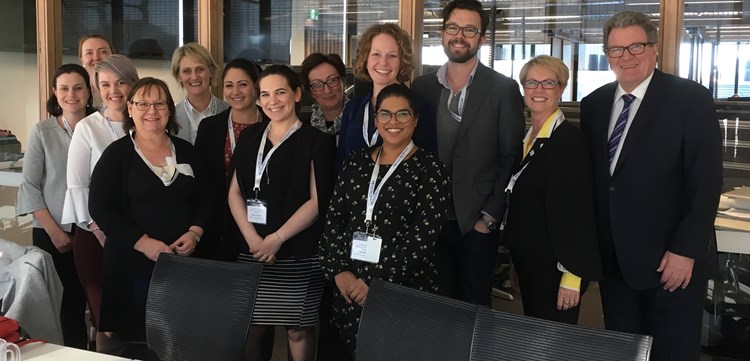 Australian Genomics has recently launched into one of its newer projects: Genomics in the Community.
The Genomics in the Community initiative is the brainchild of Richard Vines, CEO of Rare Cancers Australia and Chair of Australian Genomics' Community Advisory Group; designed to bring together Australian Genomics partners with patient advocacy groups, to co-develop and disseminate genomics information materials and resources for the community.
The initiative commenced with workshops in Melbourne and Sydney, attended by representatives from cancer and rare disease advocacy groups, the Australian Digital Health Agency, the Australian Government Department of Health, ethicists, genetics and genomics educators, Australian Genomics flagship clinicians, genetic counsellors and members of the coordination team. Workshop participants enthusiastically contributed to discussions, exploring topics such as equity of access to genomic testing, potential impacts of testing on insurances, psychosocial impacts of genomic testing on individuals and families, as well as patient privacy and the secure storage and exchange of genomic information. These views will help shape and inform the Genomics in the Community project, which aims to develop materials that facilitate a greater understanding of genomics and address the risks, benefits and impacts of genomic testing in Australia.
Feedback from the patient advocacy groups suggest that they are interested and excited about the changes in the area and want to be proactive in supporting their patient group: this initiative was viewed as a way to facilitate this. This collaboration with patient advocacy group will continue as we move into the next phase of the project, and offers the opportunity for further engagement and cooperative projects in the future.
The project working group is commencing a landscape analysis to locate and review genomics resources currently available to the community. This analysis will inform the development of new resources and the use/adaption existing genomics information materials.
Thank you to all our participants, working group members, and the Australian Genomics Community Advisory Group.
Stay tuned as the project progresses!