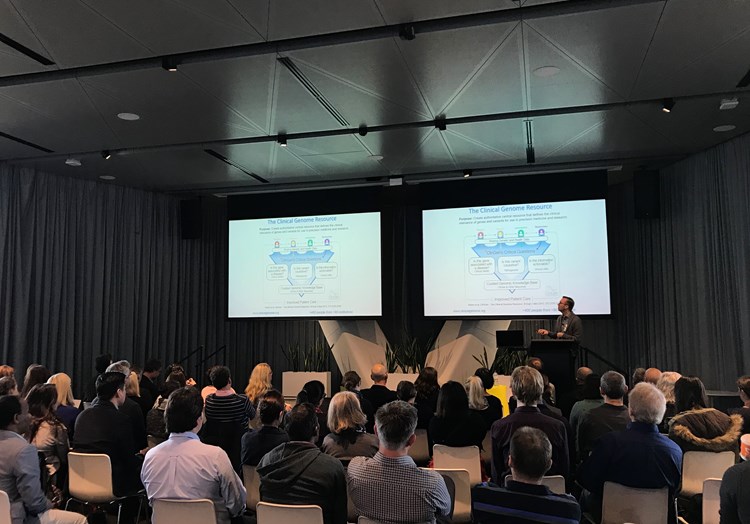 On Sunday 5th August, 90 delegates of the Human Genetics Society of Australasia (HGSA) conference — including genetic counsellors, clinicians, laboratory scientists and researchers — gathered for an evening workshop on variant curation and sharing. Coordinated by Emma Tudini and chaired by A/Prof Amanda Spurdle (QIMR Berghofer), this was the second Australian Genomics and HGSA variation curation & sharing satellite meeting.
This year we were delighted to host Dr Steven Harrison as invited speaker of the workshop. Steven is the Associate Laboratory Director of the Clinical Research Sequencing Platform (CRSP) of the Broad Institute of Harvard and MIT and is heavily involved in the Clinical Genome Resource (ClinGen); an international resource aiming to define the clinical relevance of genes and variants for use in health care and research. Steven co-chairs both the Sequence Variant Interpretation and Sequence Variant Inter-Laboratory Discrepancy Resolution working groups under ClinGen.
Steven presented on the applications and current developments of the ACMG/AMP guidelines, providing an invaluable international perspective on the application of the ACMG/AMP guidelines that have been adopted by most Australian genetic testing laboratories as 'standard' for the classification of germline variants. Support around the use of these guidelines was first recognised as a need for the Australian genetics space at the first variant curation and sharing meeting held at HGSA 2017.
This years' workshop also offered the Australian Genomics variant curation and sharing working group an opportunity to update attendees on the development of a national variant sharing platform. The platform, now named "Shariant", is being developed as a national web-based software solution to share clinically curated variants and structured supporting evidence between Australian laboratories. A strategy for the platform's development, piloting and wider-scale implementation is underway.
For more, see the workshop presentations here.
In all, the workshop was a great success, stimulating robust discussion among attendees. There is clearly an appetite for both clinical variant sharing via the Australian Genomics Shariant platform and ongoing education in the variant classification realm.
During his time in Australia, Steven was hosted by the South Australian Health & Medical Research Institute, SA Pathology, Murdoch Children's Research Institute, Victorian Clinical Genetics Services, the Centenary Institute, Genetic Health Queensland, Pathology Queensland and QIMR Berghofer, delivering local seminars on the value of variant sharing and engaging with scientists and clinicians in the field. His visit was also supported by HGSA special interest group, the Australasian Society of Diagnostic Genomics (Queensland) and the HGSA New South Wales & ACT branch. View some of the photos from Steven's visit here.
Our sincere thanks to the HGSA for co-hosting this 2018 workshop, and to the above institutes and groups that supported Steven's trip to Australia. We look forward to continuing our collaboration in the future.
We are interested in your input on future meetings on clinical variant curation and sharing. If you would like to contribute, please follow the link to a short survey, available here . The survey will remain open until October 20, 2018.