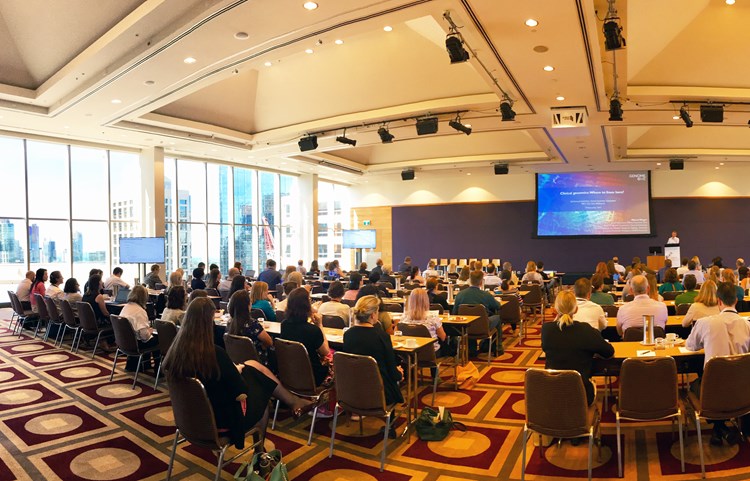 A vibrant community of more than 170 clinicians and researchers attended the Annual Australian Clinical Genomics Symposium (AACGS) to hear from international speakers and participate in discussions on ethics, rapid turnaround sequencing and mainstreaming of clinical genomics. The 2017 Symposium was organised by the Garvan Institute of Medical Research and the Australian Genomics and supported by Genome.One, Murdoch Children's Research Institute, Illumina Inc. and the Australian Digital Health Agency.
The symposium explored current challenges in practice, mainstreaming, genomic screening and personalised prevention. The event began with speakers highlighting the growing scope of contemporary clinical genomics practice in Australia and across the world, and the challenges arising from this expansion.
Plenary speaker, Professor Fowzan Alkuraya, Head of the Development Genetics Unit at the King Faisal Specialist Hospital and Research Centre, emphasised that genomics offers tools for medical specialists to find more diagnoses, more efficiently.
"Instead of thinking of exome versus clinician, I like to think we are helping each other out," said Prof Alkuraya.
There is a bottleneck in clinical genomics due to the complex process of determining whether a genetic change is the cause of a person's condition. The lack of clear rules and standards in variant interpretation currently add to the difficulty of applying automated solutions.
"I believe that it is only through getting more empirical data that we are able to refine these rules, and then we can start thinking of an AI solution," said Prof Alkuraya, "and obviously this is a global endeavour."
The Symposium's second international speaker, Professor Leslie Beisecker, Chief of the Medical Genomics and Metabolic Branch at the National Institutes of Health, reinforced the challenges of variant interpretation, reminding the audience that all the body's cells do not have the same DNA. This mosaicism, among other factors, means that two people with the same genetic change can experience very different symptoms. Similarly, different genetic changes can cause similar symptoms. "So what defines what a disease is?" questioned Prof Beisecker, "it isn't just a phenotype, it isn't just a genotype, its the combination of the two that alerts you to what is going on with your patient."
Prof Biesecker called for the audience to consider the opportunities that genomics opens up, even those that challenge current models. He emphasised the need to start working towards the future of genomics now, including its use for predictive medicine. "How can we seize this point in history when things are changing, and changing fast, and make the most of it?"
Prof Biesecker suggested that to realise this potential, the field must move past the idea that genomics is different from other areas of medicine, as this leads to a focus on the challenges over the opportunities. "We think that there is a genetic component to all diseases, so how can it be true that it is distinct?"
This theme was reinforced by talks demonstrating how genomics has found its place in many areas of specialist healthcare and a discussion panel focused on mainstream genomic medicine models of the near and far future.
Clinicians specialising in the diverse fields of cardiology, nephrology, mitochondrial disease, epilepsy, immunology and cancer discussed the varied integration of genomics into their practice. They emphasised that as they pioneer these modes of practice, the best outcomes are achieved with collaborations across healthcare and research.
As Dr Andrew Mallett, nephrologist at the Royal Brisbane and Women's Hospital and National Director of the KidGen Collaborative, described "We've gone through a process of rapid change and uptake since 2013, which is really a pretty short time period. We're beginning to have impacts all around the country with a large number of clinics getting into operation, better linkages, better relationships, and onshore diagnostics."
"It's great because it's a partnership with other clinicians, genetic counsellors, clinical geneticists, diagnostic labs, laboratory-based researchers and I think that's really the strength of it."
Across the symposium, attendees:
considered whether an individual's genetic (polygenic) risk as calculated from combining risks across many genes could have as much or more impact than well-known single-gene changes, such as BRCA1.
heard about molecular autopsies to find the cause of perinatal deaths and how this genomic information can be used to help some families have a healthy child.
discussed new initiatives linking research and clinical practice including the Australian Functional Genomics Network, which will connect clinicians, laboratories and researchers so they can study new variants found in patients, potentially improving diagnosis and informing treatments.
explored the potential of genomics for prediction and personalised prevention, a talk on preconception carrier screening argued that genomics provides clinicians with the opportunity to detect a parent's carrier status, rather than diagnosing an unwell child.
reflected on pilot genomic screening programs, including: congenital deafness in newborns, including their approach for returning additional findings (Professor David Amor, Victorian Clinical Genetics Services); and whole genome sequencing in adults for health management (Mary-Anne Young, Genome.One); and offering patients the choice to ask for re-analysis for a 'predictive panel' (Elly Lynch, Melbourne Genomics Health Alliance).
Interspersed amongst the expert presentations, discussion workshops focused on issues in clinical genomic testing, particularly whether there are sufficient practice guidelines available and the processes that most influence the time testing takes in a pathology lab.
Associate Professor Ainsley Newson, Bioethicist at The University of Sydney and co-lead of Australian Genomics Program 4, drew together a panel to discuss the ethics of clinical genomics, and the need for guidelines to support practice and patient care as genomics moves beyond the genetics clinic into the wider healthcare landscape.
The turn-around-time (TAT) in genomic testing was explored in depth by three clinical scientists from genomic pathology laboratories across Australia representing the current major technical platforms: gene-targeted panels (Dr Mark Davis, Department of Diagnostic Genomics at PathWest), exomes (Dr Sebastian Lunke, Translational Genomics Unit at Victorian Clinical Genetics Services) and whole genome sequencing (Ben Lundie, Genome.One). They emphasised that as the industry strives for rapid turn around of genomic tests, good communication with clinicians is central to getting the right data, in the right time frame, for the best patient outcomes.
One of the key themes of the conference was the future of genomics in healthcare. Associate Professor Marcel Dinger, Head of the Garvan Institute's Kinghorn Centre for Clinical Genomics, CEO of Genome.One and Program 2 Co-Lead, Australian Genomics. A/Prof Dinger highlighted the need to start planning for how practice will adapt towards genomic interpretation at point-of-care as we progress towards a future where genomic data is available electronically as part of our health record. A/Prof Dinger also outlined his vision for making genomic information accessible, both to link clinical practice with research, and to enable clinicians to use this information throughout an individual's lifetime to inform care and prevention.
"A genome sequence needs to be recognised for both its clinical utility and its research value," said A/Prof Dinger, "we fundamentally want to program this into how we design and make use of genomic information."
"The most powerful way we can spread our message and share our enthusiasm for where we see genomics and its impact in healthcare is actually demonstrating what it can do."
The resounding point of agreement across the conference was that as genomic information becomes more accessible through the health system, the challenge of building a strong evidence base and ethical guidelines must be met with national and international cooperation.
"We're not working in isolation, and we're going to be encountering the same kind of problems, so having that shared sense of purpose and being able to build on other people's brilliant ideas is the way to go," said Professor John Christodoulou, Chair of Genomic Medicine, Murdoch Children's Research Institute and Co-lead of Australian Genomics.