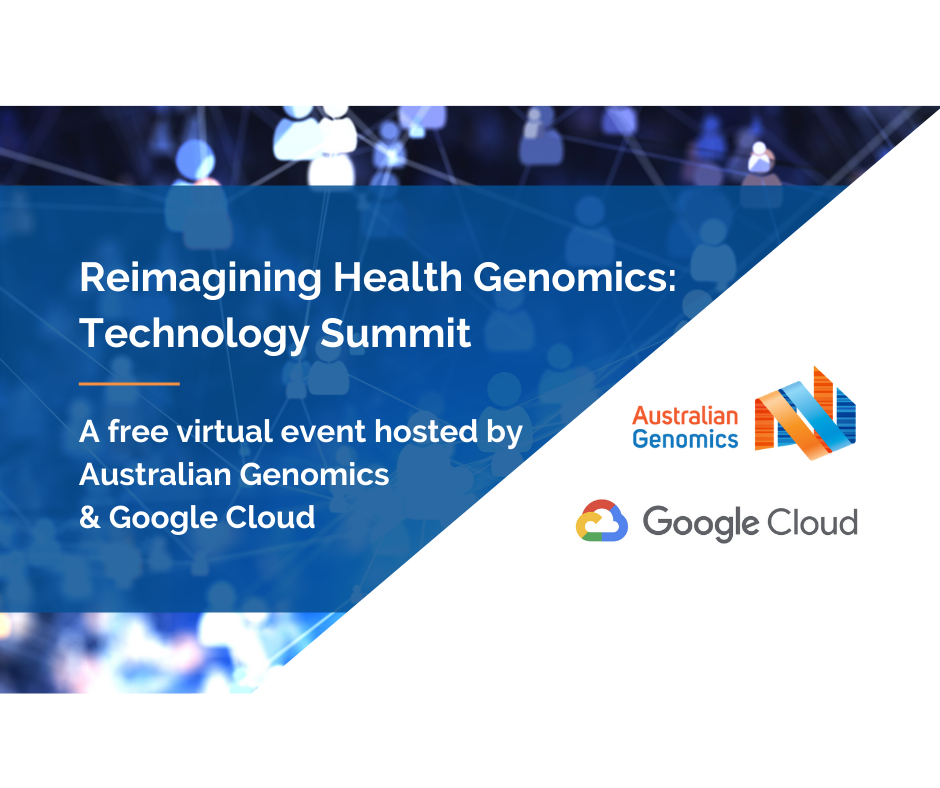 Event information – 16 & 17 September 2021
When    Virtual summit on 16 & 17 September 2021, 8.30am – 3pm AEDT
Where    Online. Link will be provided in the invite.
Registration   Registration is free and available here.
Program Download the full program.
---
Join experts from the genomic community and industry to explore the advances in technology in the field of genomics research and clinical application. Learn about enabling technologies, genomic data principles, global applications and new advancements that can accelerate outcomes and enable collaboration across institutions.
Hear how technology can advance your biomedical research at scale; accelerate scientific discovery and support health system translation. From sessions on Terra and genomics to AI/ML to the principles that govern this field of endeavour … and more.
You will come away with the new ideas, information, strategies and tools to transform genomic research and practice.
---
Schedule
Day 1 – Technology
Large-scale genomic collaborations – David Glazer, Verily
Illumina TruSight – Elliott Margulies, Illumina
Google Cloud: Services for Genomics Workloads – Daniel Formoso, Google Cloud
Genomics and the Cloud – Daniel MacArthur, Centre for Population Genomics
Hail: Scalable Tertiary Analysis of Genetic Datasets – Daniel King, Broad Institute
Artificial intelligence and the healthcare sector – Alexander Titus, Google Cloud
Cloud perspective for applying research in clinical practice – Cameron Bean, Max Kelsen
Interoperable Clinical Information – Alejandro Metke, CSIRO
Day 2 – Principles
Australian research and health innovation – Ian Chubb, Accenture
A national approach to genomic information management – Marie-Jo Brion, Australian Genomics
Research participant platforms and dynamic consent – Matilda Haas, Australian Genomics
Technological solutions for genomic workforce challenges – Dana Bradford, CSIRO
Genomic data sharing: Participant perspectives – Natalie Thorne, Melbourne Genomics, Kirsten Boggs & Vana Madelli, Australian Genomics
Legal barriers to genomic data sharing – Mark Taylor, Melbourne Law School, & Ainsley Newson, University of Sydney
Indigenous data sovereignty – Kalinda Griffiths, UNSW
Genomics and commercialisation in Australia: Panel Discussion – Amanda Cashin, Illumina Accelerator; Anthony Bishop GenomiQa; Marcel Dinger, UNSW; Matt Keon, GenieUs; & Luke Holtham Reid, Microba. Panel moderator: David Bunker, BDHP & InGeNA.