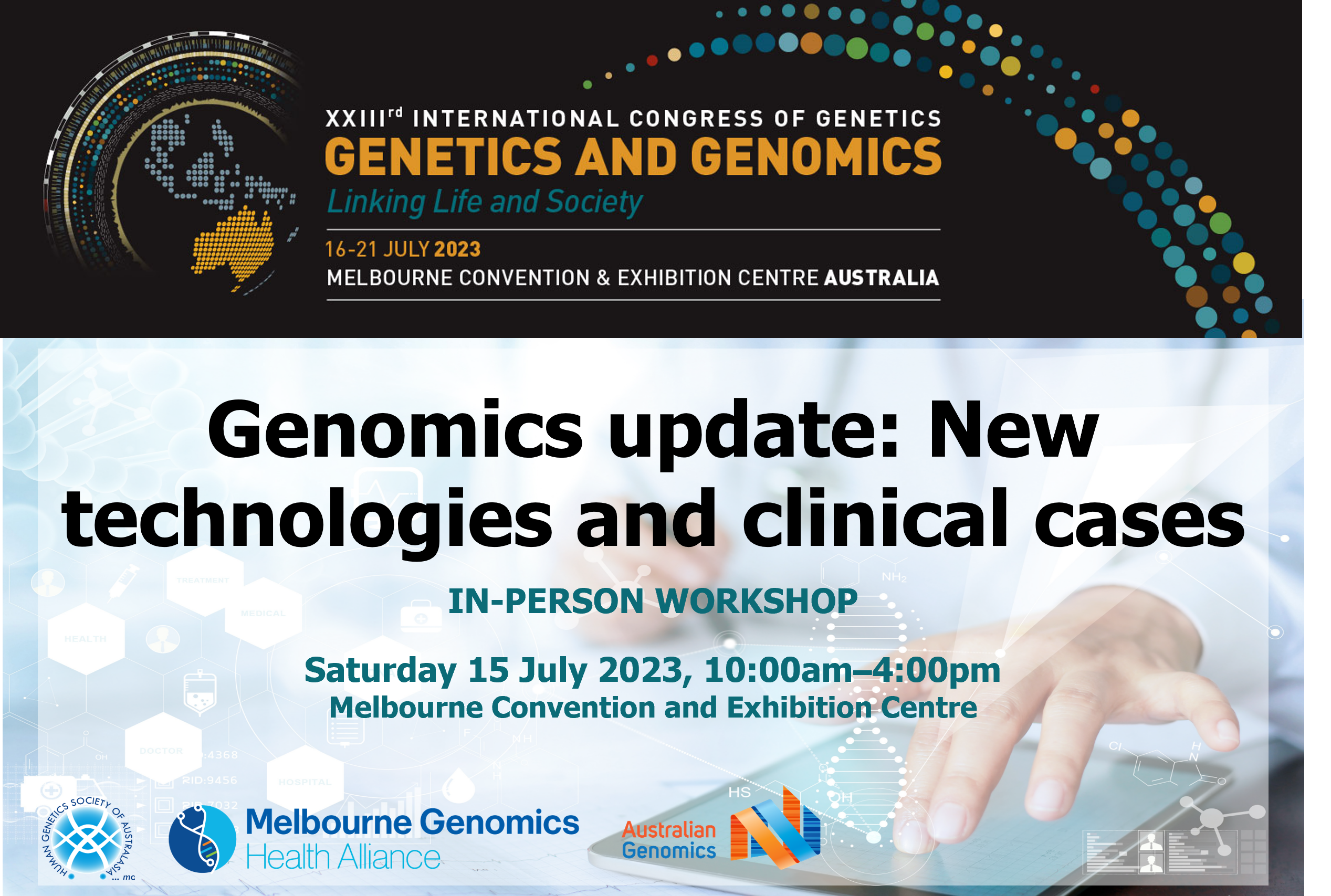 When    Satellite Meeting of the International Congress of Genetics – Saturday 15 July 2023, 10am – 4pm (AEST)
Where    Melbourne Convention and Exhibition Centre
Registration   This is an in-person workshop for clinicians. Registration is available here.
---
An in-person workshop for GPs, specialists, nurses and other health professionals interested in genomics in clinical practice.
Escape Zoom, office, home demands! Learn, eat, network and discuss genomics!
Learn from the top people experienced in the field, including clinicians, scientists, researchers, ethicists and community representatives.
Cost: $300 including morning tea and lunch
Further information and registration.
Download the flyer here.
Learning outcomes:
Refresh basic genetics/genomic principles and processes
Identify when a patient is suitable for genetic or genomic testing and how to select the right test at the right time
Appreciate clinicians' roles across the genomic testing pathway
Describe complexities of communicating with patients and families around consent, result disclosure and follow up
Understand the science behind polygenic risk scores, pharmacogenomics and precision cancer therapies
Program
Lectures
Genomics '101'
Simple case: the evolution of genetic testing, screening and management of spinal muscular atrophy
Complex case: dual variant infantile epilepsy
Breakout rooms: new technologies
Polygenic risk scores
Precision medicine and targeted cancer treatments
Pharmacogenomics
Panel discussion
Has genomics met its promise?
Learn from the top people experienced in the field, including:
Dr Alison Archibald, Prof Martin Delatycki, Prof Clara Gaff, Prof Lynn Gillam, Prof Sean Grimmond, Dr Katherine Howell, Prof Paul James, A/Prof Seb Lunke, Dr Sam Mostafa, A/Prof Adrienne Sexton, Dr Jane Tiller, A/Prof Alison Trainer.