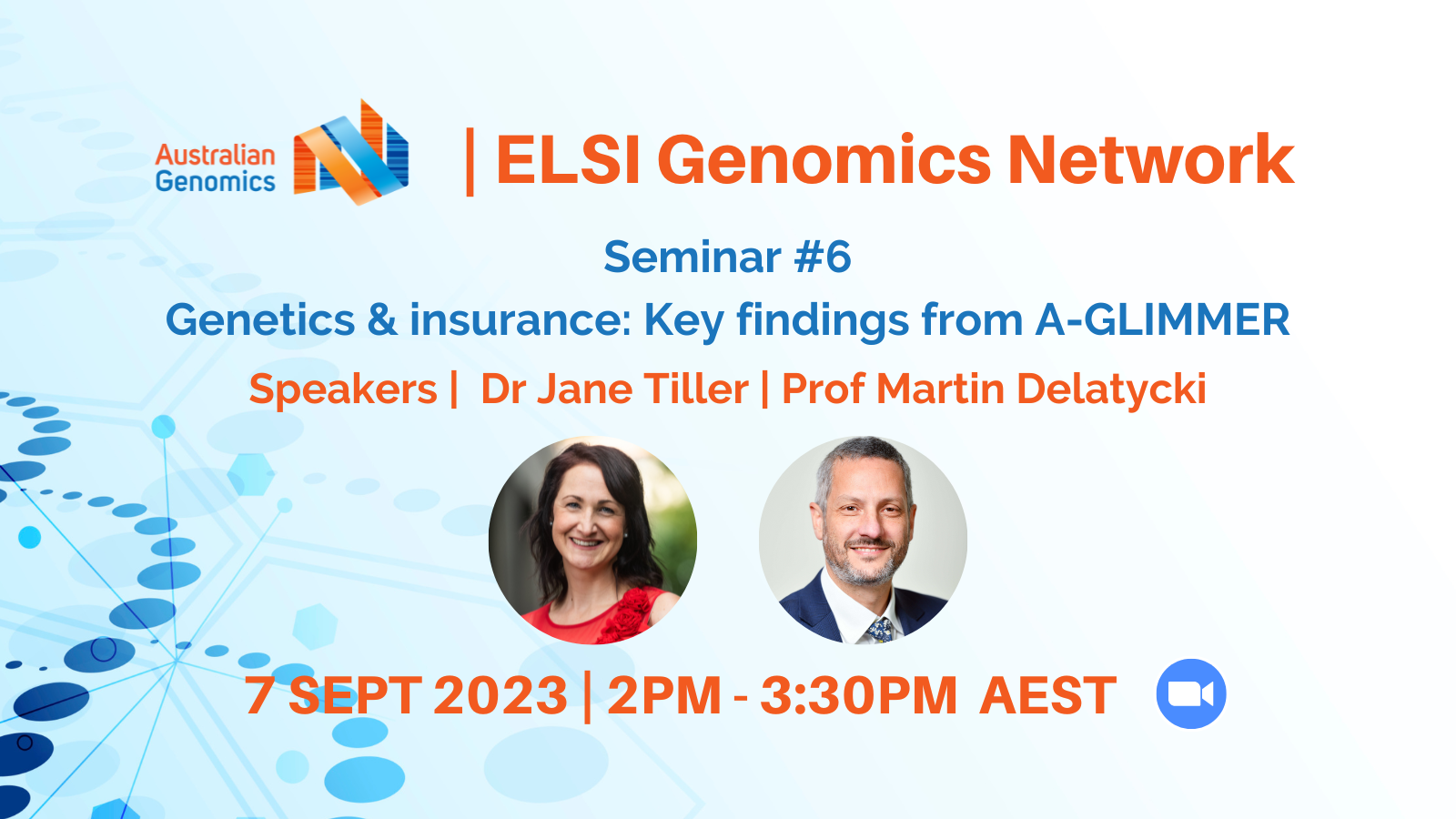 When    Virtual event on Thursday 7 September 2023, 2pm – 3.30pm (AEDT)
Where    Online. Link will be emailed to registrants prior to the event.
Registration   Registration is free and available here.
---
How does genetic discrimination play out in Australia's current insurance landscape? Join Dr Jane Tiller  and Professor Martin Delatycki at the next ELSI Genomics Network Seminar, as they present key findings from the recently concluded A-GLIMMER project. Their presentations will be followed by an interactive discussion about what should happen next to mitigate genetic discrimination for Australians.
Genetic discrimination in personally risk rated insurance products (such as life insurance) is currently regulated through an industry-led moratorium. This restricts insurers who are members of an industry body from asking for or using applicants' genetic test results to underwrite policies up to certain financial limits.
The A-GLIMMER project (Australian Genetics and Life Insurance Moratorium: Monitoring the Effectiveness and Response) brought together a team of national researchers to monitor, assess and report on the effectiveness of the moratorium. With the final report published, investigators Dr Jane Tiller and Professor Martin Delatycki will share key findings and ongoing challenges with the Australian ELSI Genomics community.
The seminar will be chaired by ELSI Genomics Network convenor Professor Ainsley Newson. There will be a chance for the audience to put their questions to the panellists and time will also be set aside for small-group networking.
Please register to receive a Zoom link via email in advance of the seminar. If you cannot attend, please still register as this will ensure you are emailed a link to the recording afterwards. Finally, we invite you to extend this invitation to colleagues, friends and collaborators who have an interest in the ethical, legal and social implications of genomics.