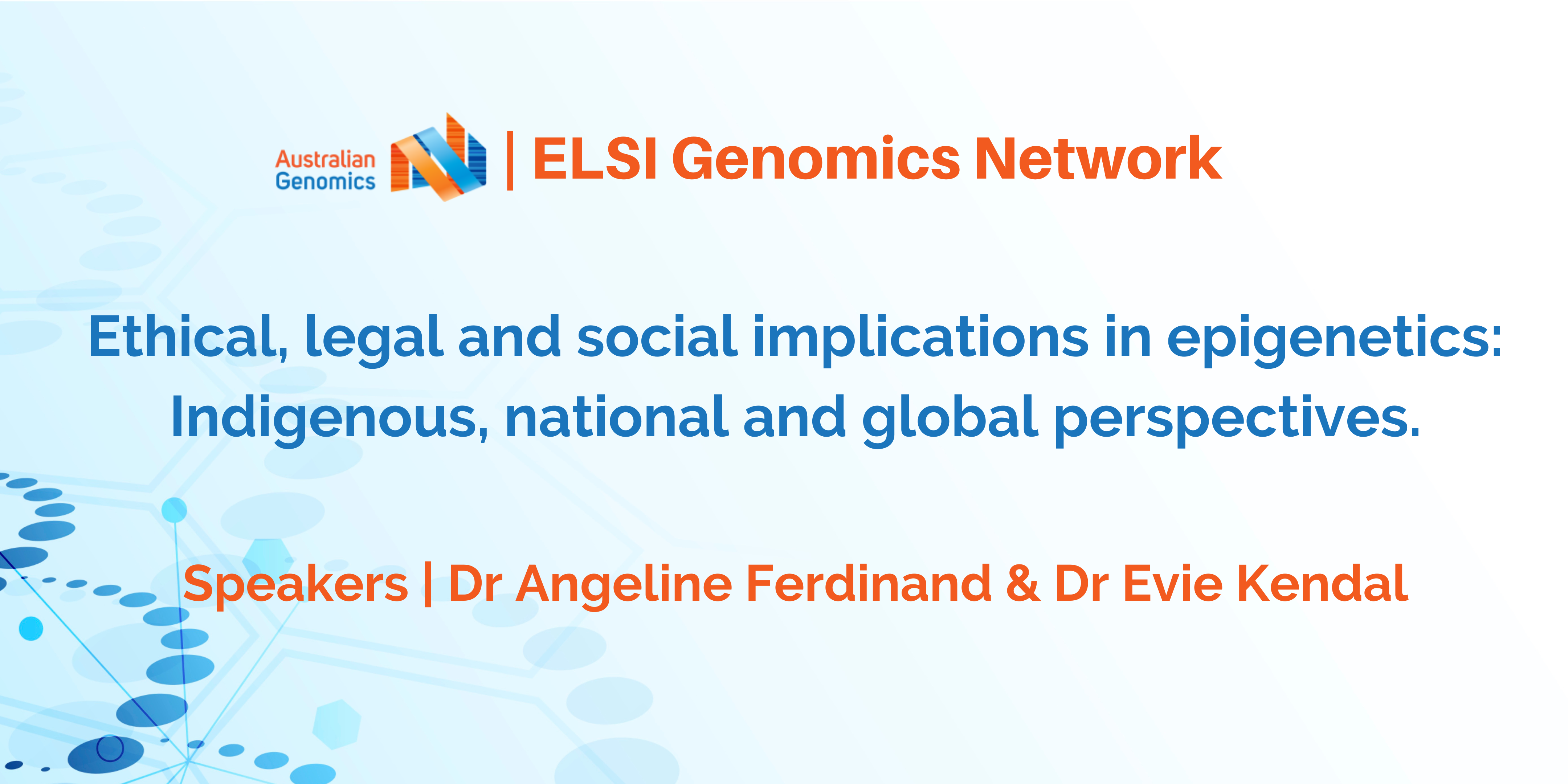 Event details
When    7 September 2022, 1.30pm-3pm
Where    Online. Link will be provided in the invite
Registration   Event details and registration available here
---
Join us for the second ELSI Genomics Network Seminar, "Ethical, legal and social implications in epigenetics: Indigenous, national and global perspectives".
This event will consider fundamental issues of health justice as they pertain to genetic and epigenetic research, testing and treatment, with a particular focus on pursuing equitable distribution of the burdens and benefits of this research across diverse populations. 
The presentations will be followed by an opportunity to network with other attendees in the form of breakout rooms.
---
About the speakers
We will be joined by guests Dr Angeline Ferdinand and Dr Evie Kendal, as they explore a plethora of ethical and legal challenges that come with advances in genetic and epigenetic testing. For example, both testing and the translation of results into meaningful therapeutic options are currently unequally distributed, with marginalised communities disproportionately experiencing harm from genetic studies, while also experiencing fewer benefits from research due to barriers in accessing personalised medicine and lack of representation in reference databases. 
Dr Angeline Ferdinand has a wide-ranging academic career that has focused on applied research that addresses complex problems of health equity, social determinants of health and the implications of new technologies in public health practice. She has conducted large-scale evaluations of health policies and initiatives, and her work has had substantial policy impact.
Dr Evie Kendal is an emerging technology bioethicist whose work focuses on reproductive biotechnologies and space ethics. She is currently working as a Lecturer of Health Promotion at Swinburne University of Technology in Victoria, Australia. Evie's research interests include artificial womb technology, ethical issues in aerospace medicine, and public health education.
Interested parties can also visit Dr Ferdinand and Dr Kendal's call for papers on equity in precision medicine for a topical collection in International Journal for Equity in Health at the following link: https://www.biomedcentral.com/collections/precision
---
Join the ELSI Genomics Network
If you are not already part of the ELSI Genomics Network and would like to join, sign up to the newsletter here.