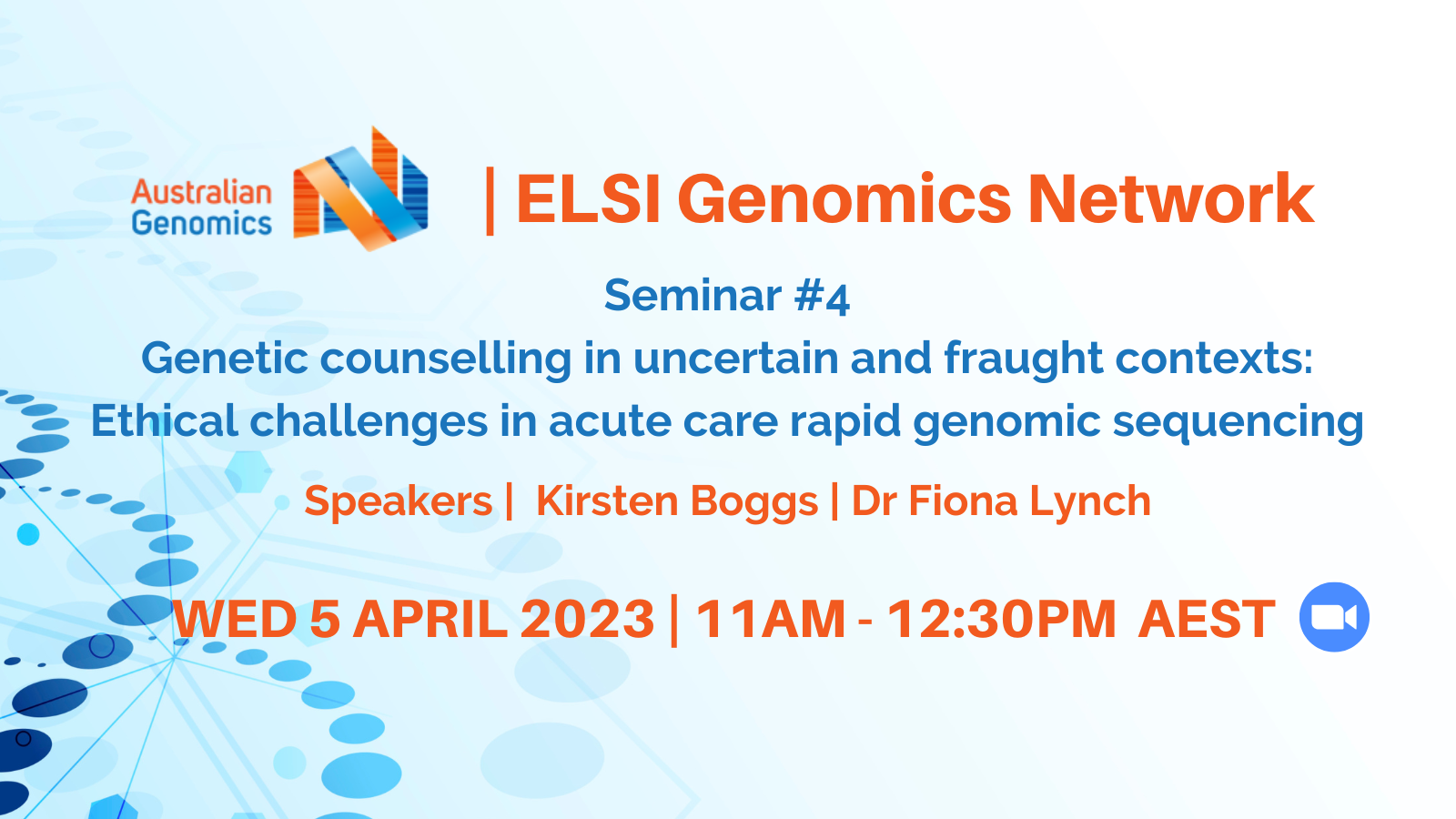 When    Virtual event on Wednesday 5 April 2023, 11am – 12.30pm (AEST)
Where    Online. Link will be provided in the invite.
Registration   Registration is free and available here.
---
Join us for a conversation about the ethical challenges involved in acute care rapid genomic sequencing, led by two research-active genetic counsellors, Kirsten Boggs and Dr Fiona Lynch.
Kirsten and Fiona will provide a brief overview of the practice of genetic counselling in the specific domain of acute care rapid genomic sequencing and explain how they came to work and research in this field. They will then explore some of the key differences between genetic counselling provided in a typical non-acute clinical environment compared to an acute care context. As we will see, the different setting and context of acute care rapid genomic sequencing can generate novel ethical tensions, as well as challenge some of the ethical norms within genomic medicine.
This event will provide insights into how ethical issues arise in practice, and how genetic health professionals reason around them in the course of their work, and in their research. Attendees will have an opportunity to ask questions about the ethical, legal and social aspects of this fast-developing area of practice.
The seminar will be chaired by ELSI Network convenor Professor Ainsley Newson. There will be plenty of time for questions from the audience.
Time will also be set aside for small-group networking via Zoom breakout rooms – come and meet someone you've never talked to before!
We are looking forward to gathering together for our first event of 2023. We invite you to extend this invitation to colleagues, friends and collaborators who have an interest in ELSI within genomics. Please follow the link below to register for the online event.
If you cannot attend, please still register – this will ensure you are emailed a link to the recording afterwards.
Research on the ethical, legal and social issues surrounding genomics is rapidly developing as the integration of genetic technology into medical research and clinical care advances. This exciting and dynamic field of research cuts across disciplines, industry/academic settings and other traditional boundaries. For this reason, among others, Early Career Researchers face unique challenges carving a career path in this sometimes ambiguous terrain.