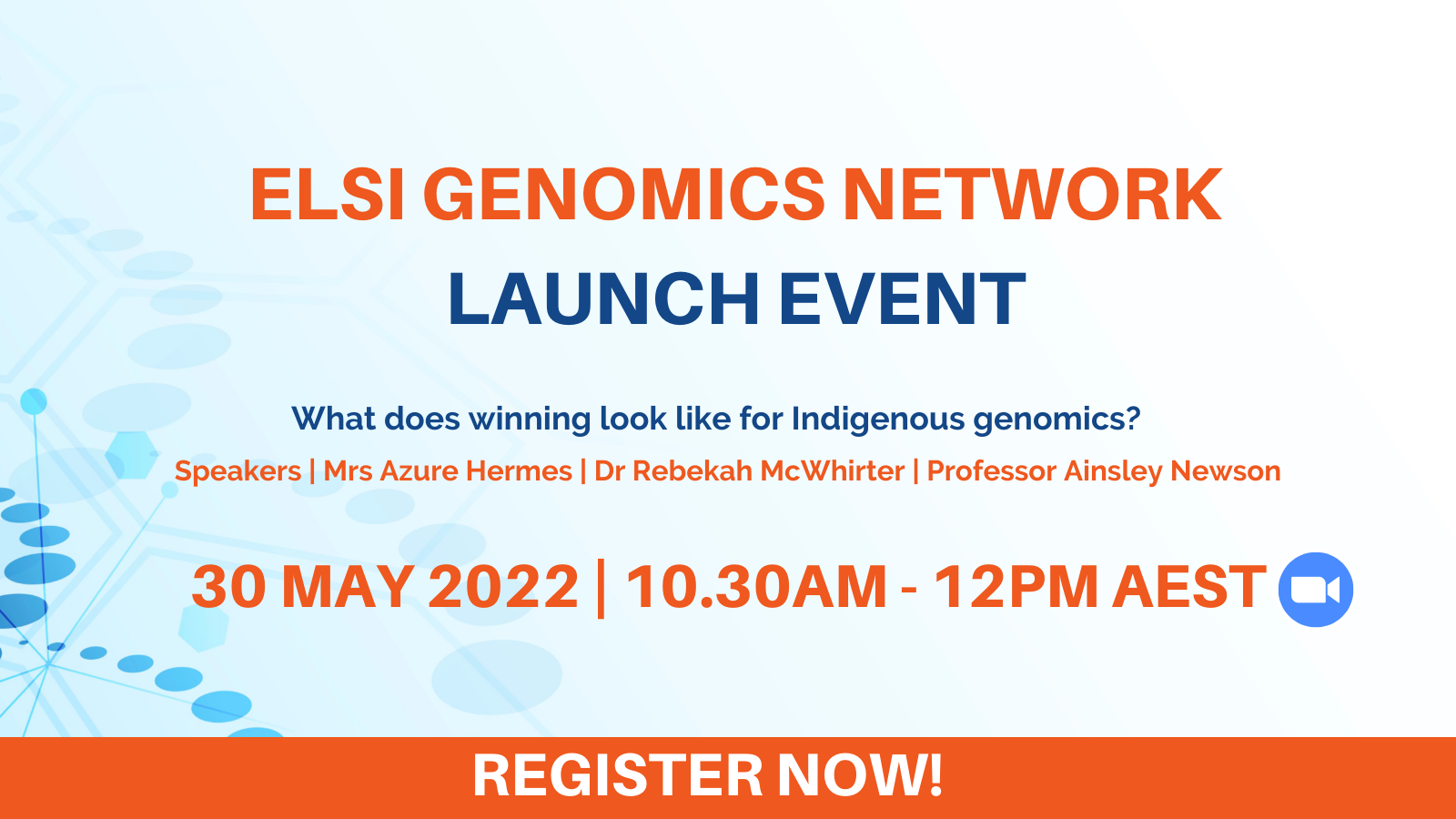 When    Virtual event on 30 May 2022, 10.30am – 12pm
Where    Online. Link will be provided in the registration confirmation email.
Registration   Registration is free and available here.
---
The ELSI Network Launch Event will consider how approaches drawn from research in Indigenous ethics can be used to consider ELSI* Genomics.
About this event
What does winning look like for Indigenous genomics?
Join us for this online zoom session to celebrate the launch of the ELSI Genomics Network!
Mrs Azure Hermes and Dr Rebekah McWhirter will explore concepts of data sovereignty, control and benefit and give examples of how they can be put into effect at the national level. The discussion will also consider what this means for non-Indigenous researchers working with Indigenous communities and peoples and the benefits of applying that mindset and those methods to broader genomics research.
Mrs Azure Hermes is the Deputy Director of the National Centre for Indigenous Genomics at The John Curtin School of Medical Research, ANU. The Centre focuses on using genomics to improve the health and well-being of Australia's First Peoples and is forging a new approach to the ethically and culturally challenging topic of Indigenous genomic research. Mrs Hermes is from the Gimuy Walubara Yidinji people who are traditional custodians of the Cairns area.
Dr Rebekah McWhirter is a senior lecturer in health law and ethics in the School of Medicine at Deakin University. Her interdisciplinary research examines ethical and legal issues in health, particularly at the intersections of research ethics, genomics and Aboriginal and Torres Strait Islander community engagement.
The event will be chaired by Professor Ainsley Newson, inaugural convenor of the ELSI Network and Professor of Bioethics at the University of Sydney. Ainsley is an internationally recognised expert in ethical issues in human genomics, genetics and reproduction. Her work focuses on the appropriate implementation of these technologies, benefiting individuals and populations.
*Ethical, Legal and Social Implications of Genomics

If you would like to join the ELSI Genomics Network and stay updated about our future events you can also sign up to the newsletter here!
Please note that you will be automatically signed up to our mailing list if you register for our event.