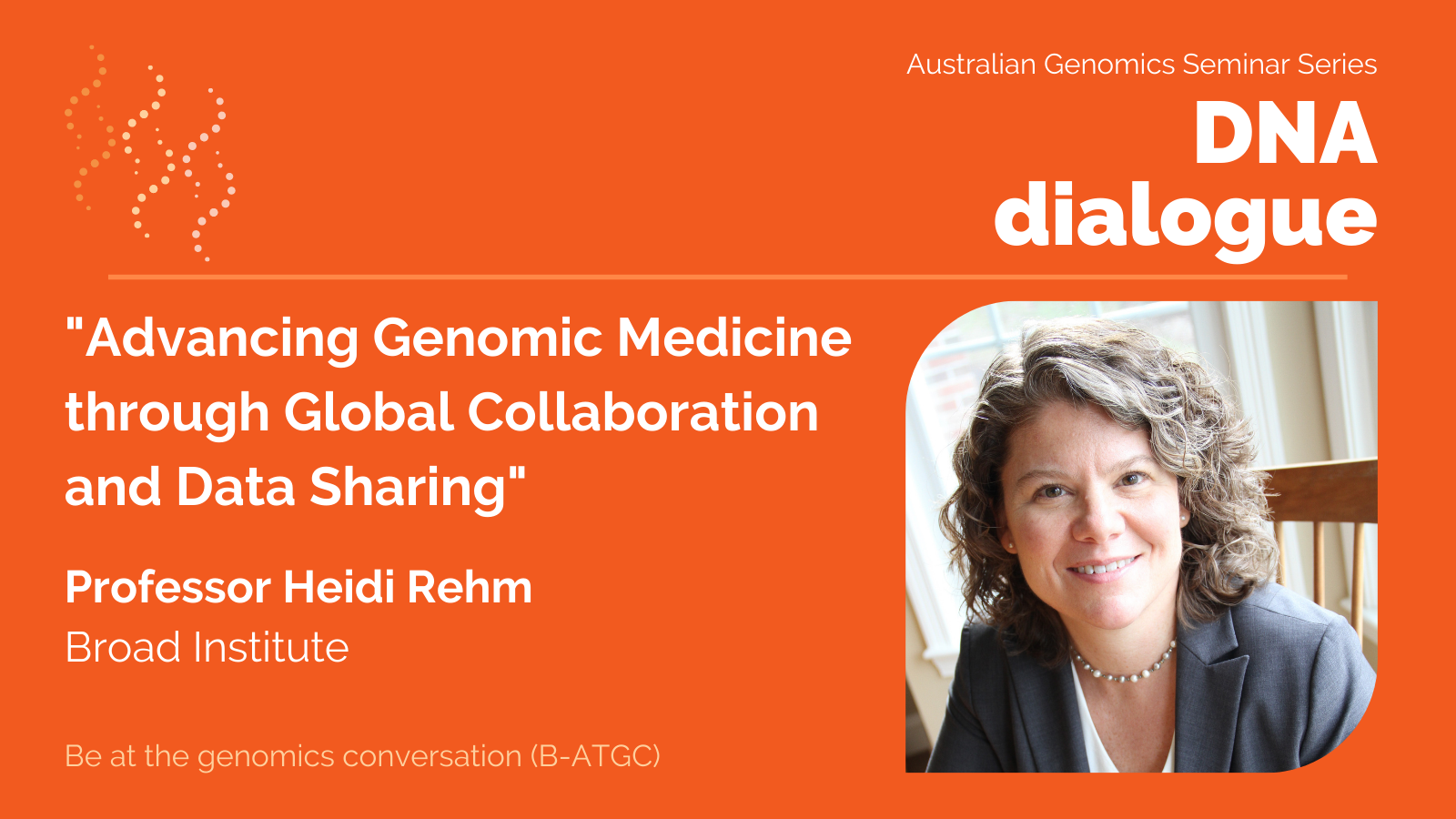 When    Virtual seminar on 26 May 2022, 8am – 8.45am
Where    Online. Link will be provided in the invite.
Registration   Registration is free and available here.
---
In May Australian Genomics begins a breakfast seminar series – DNA dialogue – to engage with leaders across the international genomics community and to provide a forum for exploring new ideas.
Our inaugural seminar "Advancing Genomic Medicine through Global Collaboration and Data Sharing" features Professor Heidi Rehm from the Broad Institute (USA).
Supporting genomics in the practice of medicine requires extensive infrastructure, including standards, knowledge bases and global data sharing, as well as a rich interface between research and clinical care as new gene-disease relationships continue to be discovered at a rapid pace. This talk will present community efforts to support clinical genomics including the knowledge curation performed within the Clinical Genome Resource and Gene Curation Coalition, as well as novel gene discovery efforts of the GREGoR consortium and Broad Center for Mendelian Genomics.
---
About the speaker
Professor Heidi Rehm is the Chief Genomics Officer at Massachusetts General Hospital, Co-Director of the Program in Medical and Population Genetics at the Broad Institute of as well as Medical Director of the Broad Institute's clinical lab, working to support genomics in medicine and research. She is a principal investigator of ClinGen and gnomAD, providing resources to support the interpretation of genes and variants. Professor Rehm co-leads the Broad Center for Mendelian Genomics and the Matchmaker Exchange focused on discovering causes of rare disease. She is a strong advocate and pioneer of open science and data sharing, working to extend these approaches as vice chair of the Global Alliance for Genomics and Health.
---
About DNA dialogue
With the wealth of genomic expertise internationally, we hope this seminar series will be a forum for members of the genomics community in Australia and beyond to learn of new developments in health genomics, and the overseas experience.
The topics will be diverse, including data sharing, ethics, carrier screening, cancer genomics, genomics in emerging health systems, and more.
DNA dialogue seminars will be held live via zoom on the last Thursday of each month at 8am (AEST). Registration is open to anyone working in, or impacted by, medical genomics. You can register for the event here and we encourage you to spread the word about this series.
Subscribe to our newsletter to stay informed about future events.