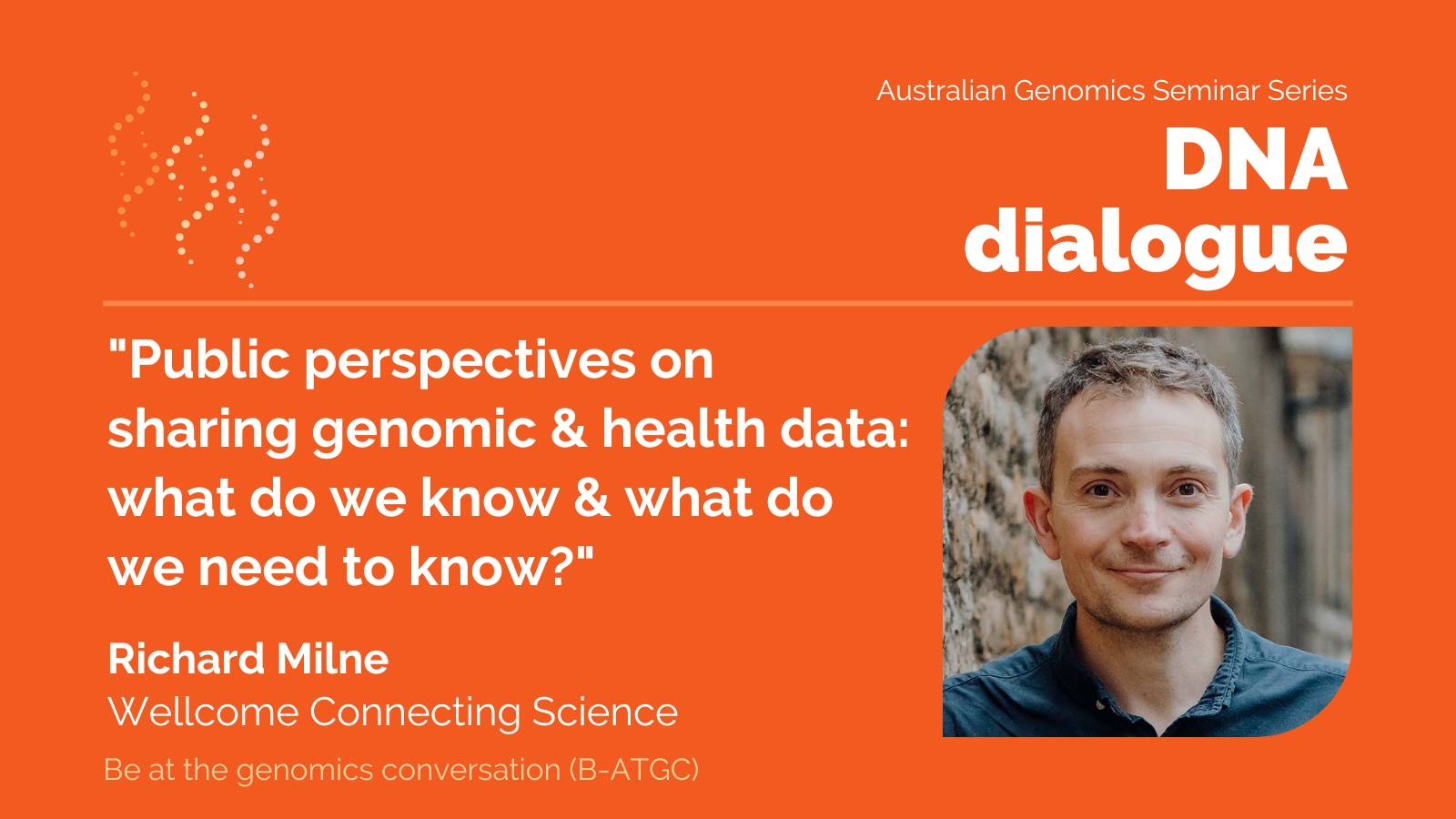 When    Virtual seminar on 29 September 2022, 8am – 8.50am
Where    Online. Link will be provided in the invite.
Registration   Registration is free and available here.
---
Join Australian Genomics' DNA dialogue seminar for September: "Public perspectives on sharing genomic and health data: what do we know and what do we need to know?" featuring Richard Milne from Wellcome Connecting Science (UK).
Richard will present findings from the international Your DNA, Your Say study of public perspectives on the sharing of genomic data, including data collected from 37,000 respondents across 22 countries. It explores some of the considerations that shape attitudes towards the donation of genomic data, particularly focusing on questions around public trust and the creation of trustworthy data initiatives, and considers the need for future work in this area.
---
About the speaker
Richard Milne is a sociologist of science, technology and medicine who has worked closely throughout his career with life scientists. He is Head of Research and Dialogue at Wellcome Connecting Science, based on the Wellcome Genome Campus in Hinxton, UK. He is also Deputy Director of the Kavli Centre for Ethics, Science, and the Public at the University of Cambridge and co-lead for Ethics, Law and Society in Cambridge Public Health. Richard's research interests are in the relationship between science and the public, particularly around genomics, biodata and new medical technologies.
---
About DNA dialogue
With the wealth of genomic expertise internationally, this seminar series is a forum for members of the genomics community in Australia and beyond to learn of new developments in health genomics, and the overseas experience.
The topics will be diverse, including data sharing, ethics, carrier screening, cancer genomics, genomics in emerging health systems, and more.
DNA dialogue seminars will be held live via zoom on the last Thursday of each month at 8am (AEST). Registration is open to anyone working in, or impacted by, medical genomics. You can register for the event here and we encourage you to spread the word about this series.
Subscribe to our newsletter to stay informed about future events.