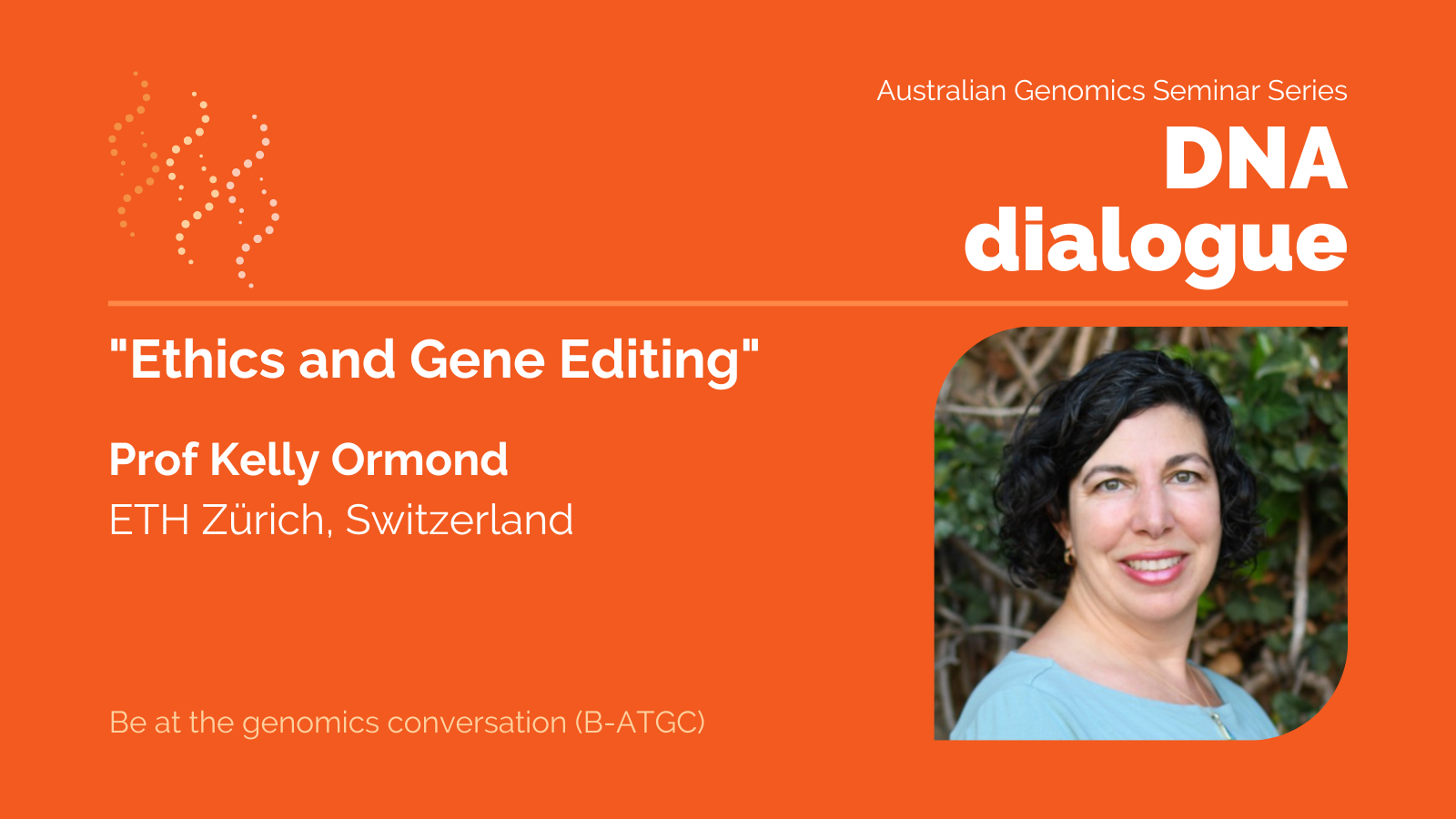 When    Virtual seminar on Thursday 25 May 2023, 4pm – 4.50pm (AEST)
Where    Online. Link will be provided in the invite.
Registration   Registration is free and available here.
---
Join Australian Genomics' DNA dialogue seminar, "Ethics and Gene Editing", featuring Prof Kelly Ormond from ETH Zürich in Switzerland.
Gene editing is becoming a reality for rare disease. What are the ethical and social issues for somatic, prenatal and germline gene editing?
---
About the speaker
Prof Kelly Ormond is a genetic counselor and ELSI researcher at the Health Ethics and Policy Lab at ETH Zürich in Zürich Switzerland. She trained in genetic counseling and clinical medical ethics in the United States. She joined the Health Ethics and Policy Lab as a Senior Scientist in February 2021, and remains an Adjunct Professor in the Department of Genetics at Stanford School of Medicine. Prior to joining ETH, Kelly practiced as a clinical genetic counselor and program director in the United States for more than 25 years. Her bioethics research focuses on the intersection between genetics and ethics, particularly around the translation of new genetic technologies (such as genome sequencing, NIPD and gene editing) into clinical practice, patient decision making, consent and disclosure of genetic test results, personalized medicine, and the interface between genetics and disability.
---
About DNA dialogue
With the wealth of genomic expertise internationally, this seminar series is a forum for members of the genomics community in Australia and beyond to learn of new developments in health genomics, and the overseas experience.
The topics are diverse, including data sharing, ethics, carrier screening, cancer genomics, genomics in emerging health systems, and more.
DNA dialogue seminars are held live via zoom on the last Thursday of each month. Registration is open to anyone working in, or impacted by, medical genomics. You can register for this event here and we encourage you to spread the word about this series.
Register for the entire 2023 series of DNA dialogue here.
Subscribe to our newsletter to stay informed about future events.