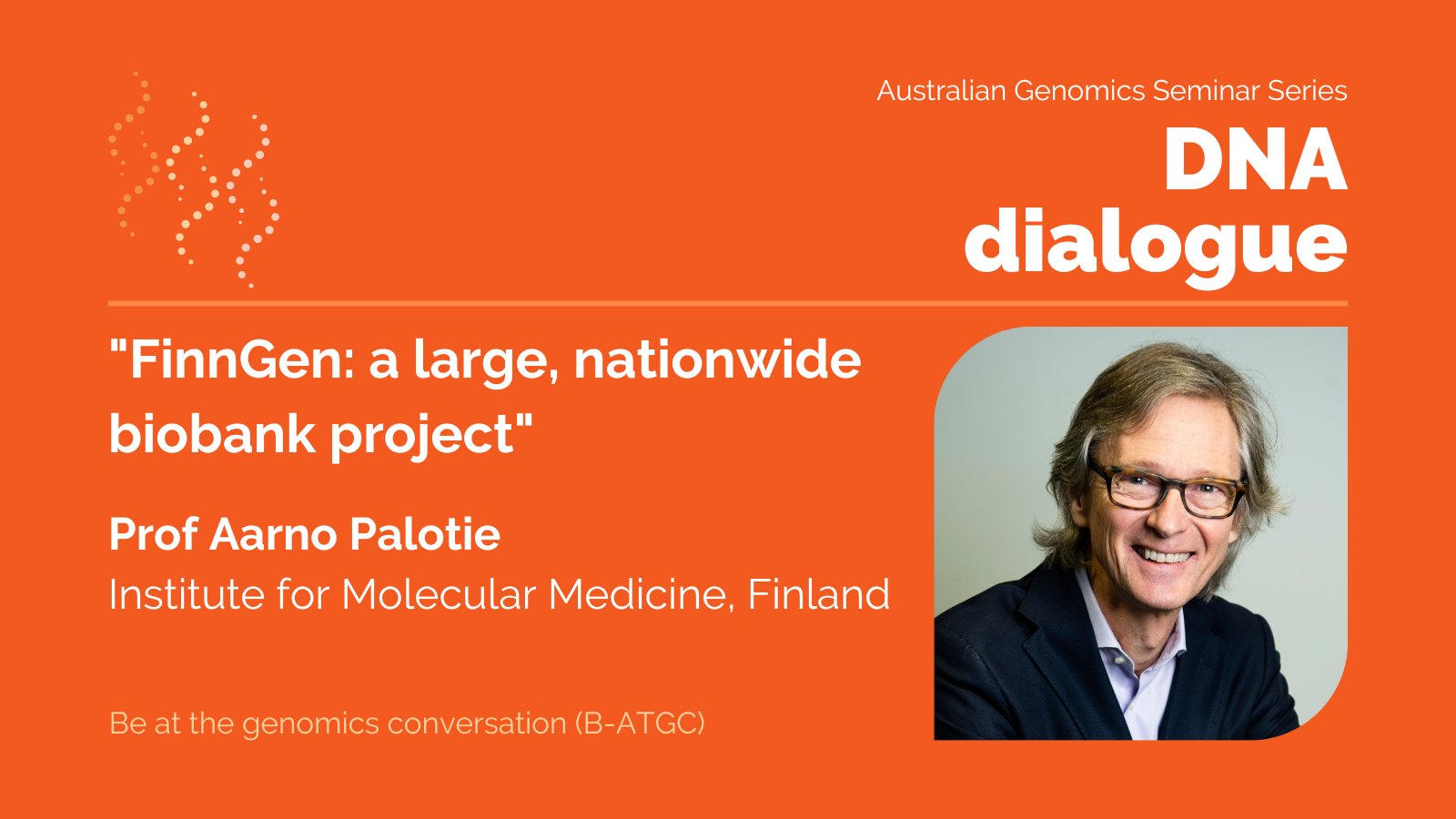 When    Virtual seminar on Thursday 23 February 2023, 4pm – 4.50pm (AEDT)
Where    Online. Link will be provided in the invite.
Registration   Registration is free and available here.
---
Join Australian Genomics' first DNA dialogue seminar for 2023 at the new time of 4pm (AEDT). Prof Aarno Palotie from the Institute for Molecular Medicine in Finland will present "FinnGen: a large, nationwide biobank project."
FinnGen is a large public-private partnership aiming to collect and analyse genome and health data from 500,000 Finnish biobank participants by 2023. FinnGen aims on one hand to provide novel medically- and therapeutically-relevant insights but also construct a world-class resource that can be applied for future studies.
Finnish biobanks have already collected DNA samples from more than 580,000 possible FinnGen participants. The study has so far identified hundreds of disease-associated loci where the associated variant is enriched in the Finnish population, including a large amount of damaging coding variants. These provide potential for further functional studies and new insight in disease mechanisms. FinnGen releases summary level results for the whole research community twice a year.
The study is coordinated by the University of Helsinki and involves Finnish biobanks and their respective universities and university hospitals, the Finnish Institute of Health and Welfare (THL), the Finnish Red Cross Blood Service, the Finnish Biobank Cooperative – FINBB and 13 international pharmaceutical companies.
---
About the speaker
Professor Aarno Palotie, M.D., Ph.D. is the Research Director of the Human Genomics program at the Institute for Molecular Medicine Finland (FIMM), HiLife. He is also a faculty member at the Center for Human Genome Research at the Massachusetts General Hospital in Boston and associate member of the Broad Institute of MIT and Harvard. He has a long track record in human disease genetics.
Professor Palotie's research utilises the unique Finnish population and healthcare to improve our understanding of the genetic components underlying common diseases. He has chaired several large international research consortia, including the Sequencing Initiative Suomi, SISu combining all Finnish sequences for a data resource and variant catalogue, the SUPER project collecting and studying genetics in over 10,000 Finnish psychosis patients,  the International Headache Genetics Consortium (IHGC) and the Northern Finland Intellectual Disability (NFID) study.
He is the Scientific Director of the large FinnGen  project that combines the genome and national health record data from 500,000 Finnish participants. The project is partnered by Business Finland (The Finnish innovation fund), 13 international pharmaceutical companies, Finnish Universities, University Hospitals, the Institute for Health and Welfare and the Blood Transfusion service.  He has published over 700 articles and book chapters.
---
About DNA dialogue
With the wealth of genomic expertise internationally, this seminar series is a forum for members of the genomics community in Australia and beyond to learn of new developments in health genomics, and the overseas experience.
The topics are diverse, including data sharing, ethics, carrier screening, cancer genomics, genomics in emerging health systems, and more.
DNA dialogue seminars are held live via zoom on the last Thursday of each month. Registration is open to anyone working in, or impacted by, medical genomics. You can register for the event here and we encourage you to spread the word about this series.
Register for the entire 2023 series of DNA dialogue here.
Subscribe to our newsletter to stay informed about future events.