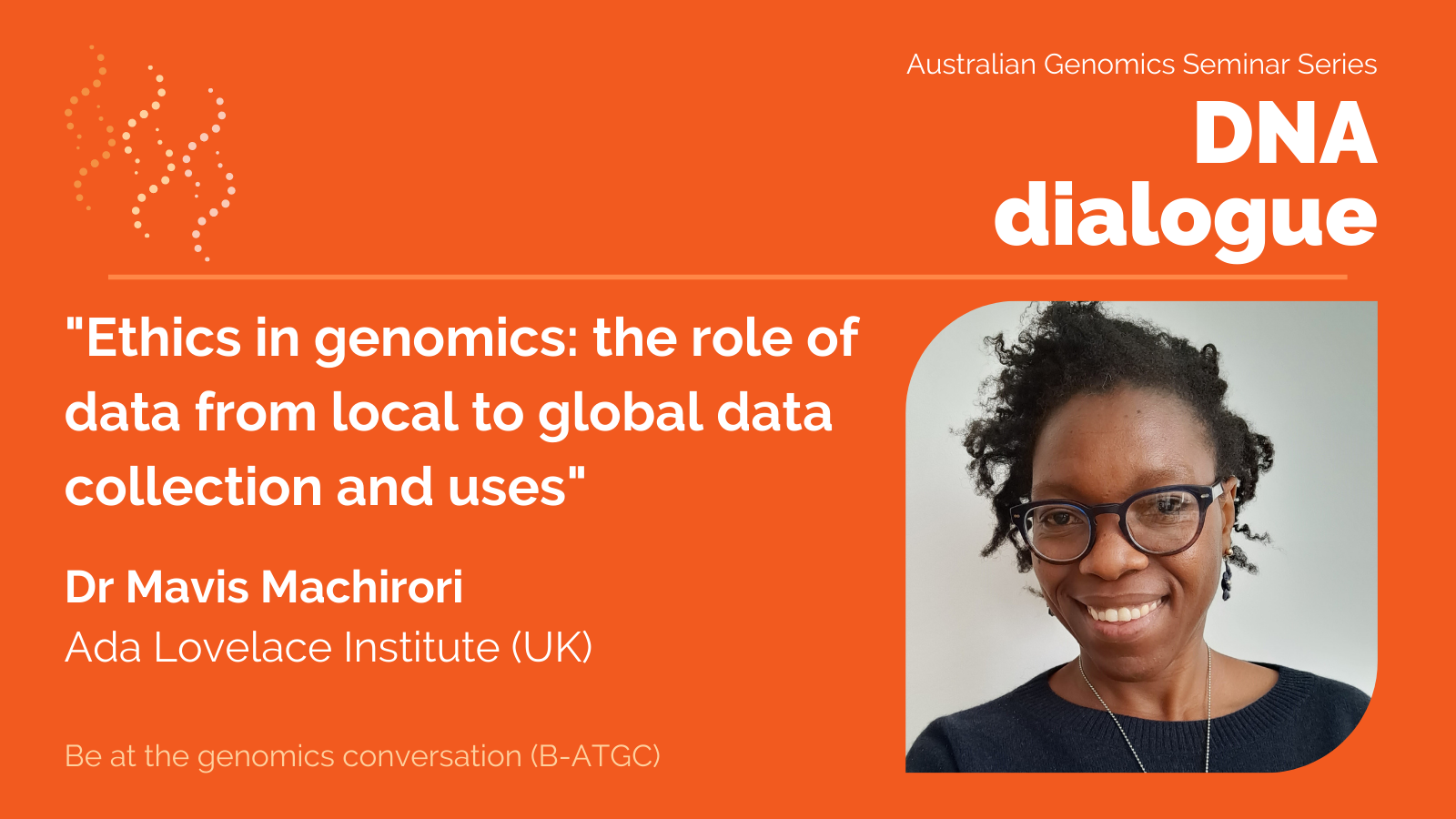 When    Virtual seminar on 30 June 2022, 8am – 8.45am
Where    Online. Link will be provided in the invite.
Registration   Registration is free and available here.
---
Our DNA dialogue seminar for June, "Ethics in genomics: the role of data from local to global data collection and uses", features Dr Mavis Machirori from the Ada Lovelace Institute (UK).  
Dr Machirori's presentation will highlight issues around data collection in health, their links to genomics and health technologies and impacts on fairness and equitable practices as ethical concerns. It will question the impact of data categories on what it means for individual and collective knowledge and identity.
---
About the speaker
Mavis Machirori is a Senior Researcher at the Ada Lovelace Institute, working on interrogating data-driven technologies and their impacts on health and social inequalities. Mavis has clinical and clinical research expertise as well as research knowledge across health and genomic data governance and is interested in how different data practices impact public and societal health. She translates knowledge from her PhD research with women from minority backgrounds in cancer genomics, to more broader thinking about what diversity means in theory and in practice.
---
About DNA dialogue
With the wealth of genomic expertise internationally, we hope this seminar series will be a forum for members of the genomics community in Australia and beyond to learn of new developments in health genomics, and the overseas experience.
The topics will be diverse, including data sharing, ethics, carrier screening, cancer genomics, genomics in emerging health systems, and more.
DNA dialogue seminars will be held live via zoom on the last Thursday of each month at 8am (AEST). Registration is open to anyone working in, or impacted by, medical genomics. You can register for the event here and we encourage you to spread the word about this series.
Subscribe to our newsletter to stay informed about future events.