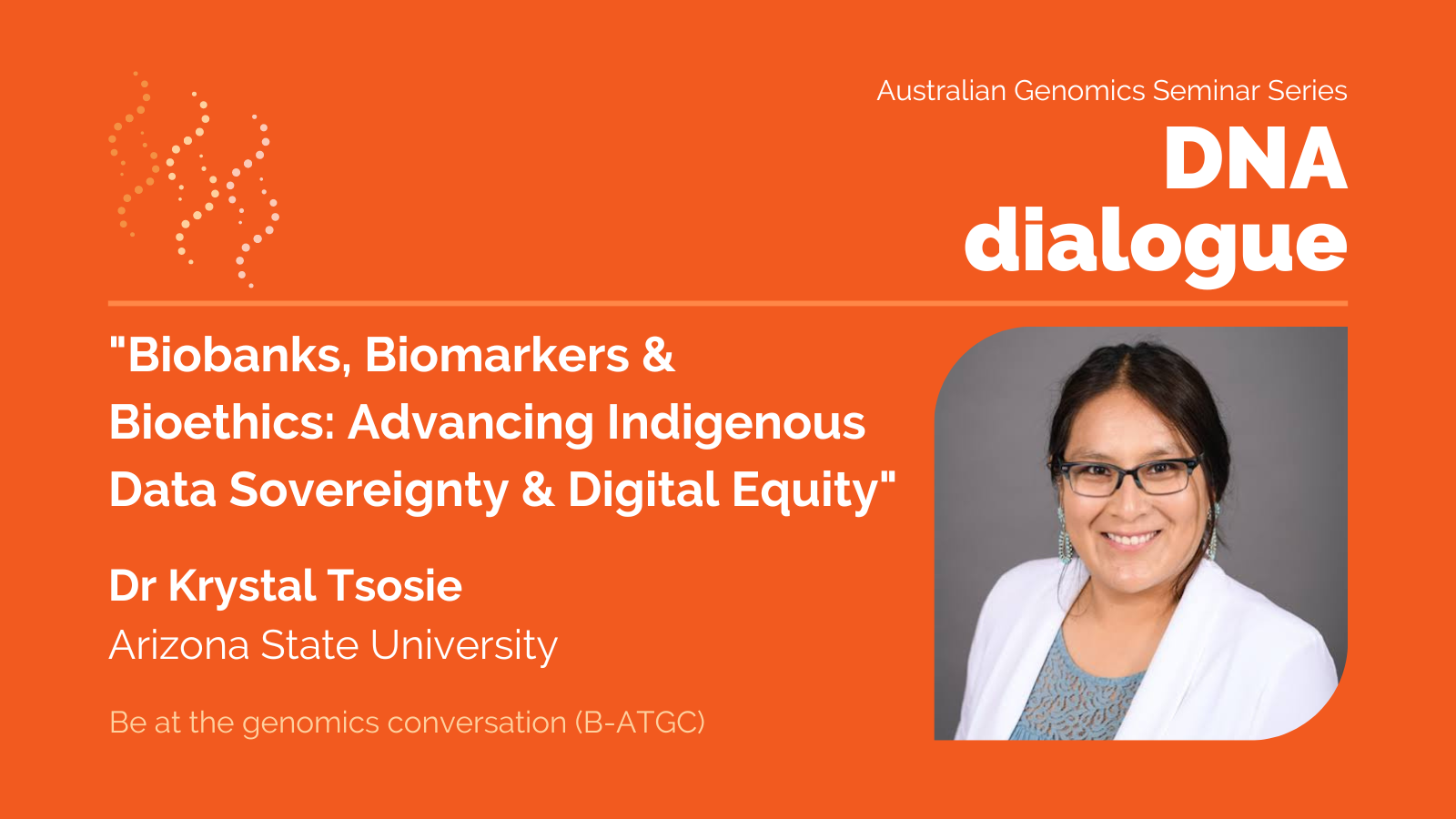 When    Virtual seminar on Thursday 30 March 2023, 9am – 9.50am (AEDT)
Where    Online. Link will be provided in the invite.
Registration   Registration is free and available here.
---
Join Australian Genomics' DNA dialogue seminar for March, "Biobanks, Biomarkers & Bioethics: Advancing Indigenous Data Sovereignty & Digital Equity", with Dr Krystal Tsosie an Indigenous geneticist-bioethicist at Arizona State University.
---
About the speaker
Dr Krystal Tsosie (Diné/Navajo Nation) is an Indigenous geneticist-bioethicist and Assistant Professor in the School of Life Sciences at Arizona State University. As an advocate for Indigenous genomic data sovereignty, she co-founded the first US Indigenous-led biobank, a 501c3 nonprofit research institution called the Native BioData Consortium. Her research can be encapsulated in two main foci: Indigenous population genetics and bioethics. In particular, she focuses on bioethical engagement of Indigenous communities in genomics and data science to build trust. As a whole, her interest is in integrating genomic and data approaches to assess Indigenous variation contributing to health inequities.
---
About DNA dialogue
With the wealth of genomic expertise internationally, this seminar series is a forum for members of the genomics community in Australia and beyond to learn of new developments in health genomics, and the overseas experience.
The topics are diverse, including data sharing, ethics, carrier screening, cancer genomics, genomics in emerging health systems, and more.
DNA dialogue seminars are held live via zoom on the last Thursday of each month. Registration is open to anyone working in, or impacted by, medical genomics. You can register for this event here and we encourage you to spread the word about this series.
Register for the entire 2023 series of DNA dialogue here.
Subscribe to our newsletter to stay informed about future events.