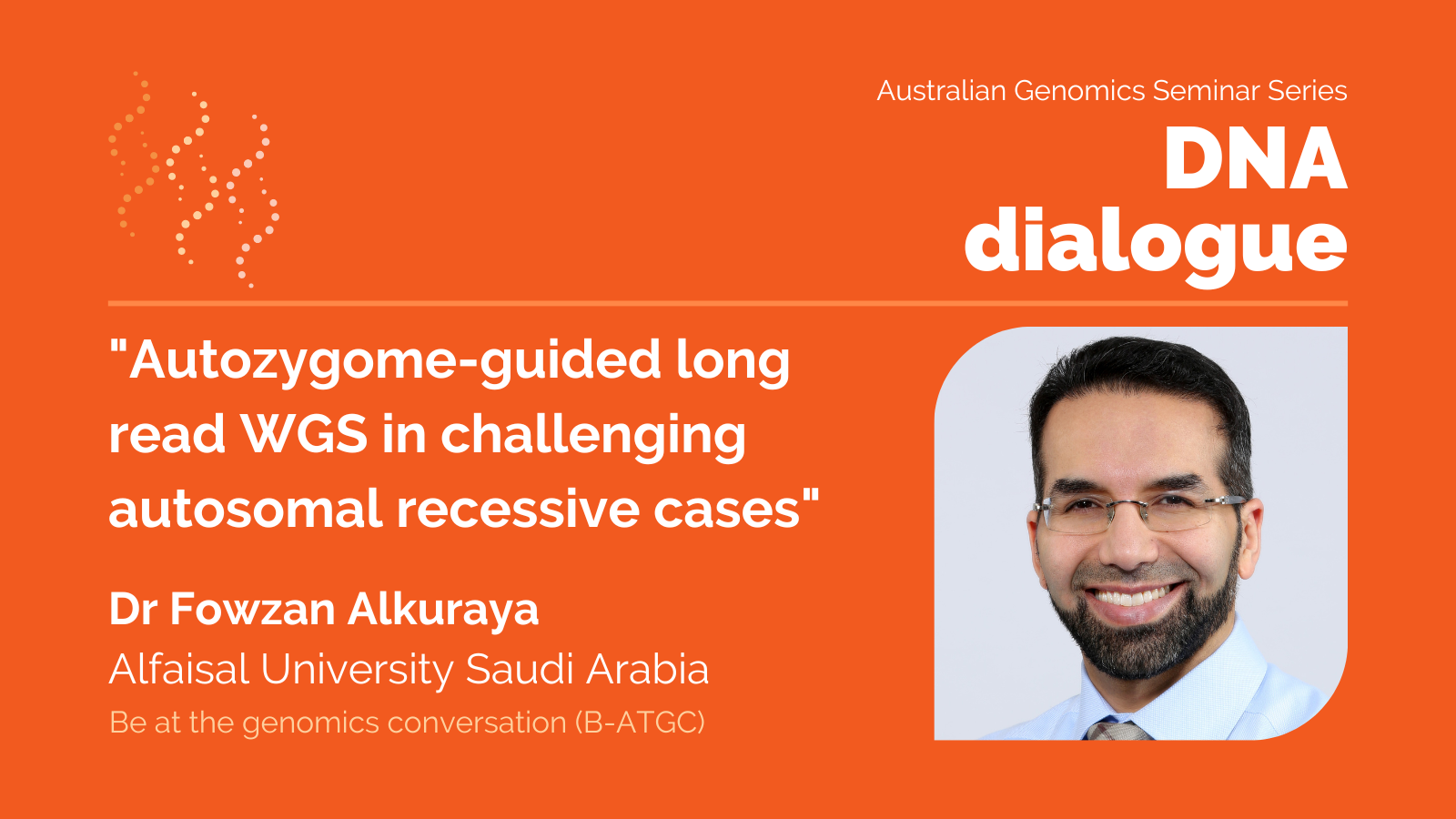 When    Virtual seminar on Monday 1 May 2023, 4pm – 4.50pm (AEST)
Where    Online. Link will be provided in the invite.
Registration   Registration is free and available here.
---
Join Australian Genomics' DNA dialogue seminar, "Autozygome-guided long read WGS in challenging autosomal recessive cases", with Dr Fowzan Alkuraya from Alfaisal University in Saudi Arabia. 
Interpretation-related limitations of clinical genome sequencing are under-appreciated. Dr Alkuraya will discuss these in the context of his experience with long-read whole genome sequencing in autosomal recessive Mendelian phenotypes that defied diagnosis by short-read whole exome/genome sequencing.
---
About the speaker
Dr Fowzan S. Alkuraya is a Professor of Human Genetics at Alfaisal University and Chairman of the Department of Translational Genomics at King Faisal Specialist Hospital (KFSHRC) and Research Center. He joined medical school (King Saud University) at 14, graduating first in his class with first class honours. He completed a paediatric residency at Georgetown University Hospital, followed by fellowships in clinical genetics and molecular genetics at Harvard Medical School, and a postdoctoral research fellowship in developmental genetics with Prof Richard Maas at Harvard Medical School. Fowzan returned to his native Saudi Arabia to establish the Developmental Genetics Lab, which later became the Center for Genomic Medicine at KFSHRC. He is an authority on Mendelian genetics with over 530 published manuscripts describing his lab's discovery of hundreds of novel human disease genes.
---
About DNA dialogue
With the wealth of genomic expertise internationally, this seminar series is a forum for members of the genomics community in Australia and beyond to learn of new developments in health genomics, and the overseas experience.
The topics are diverse, including data sharing, ethics, carrier screening, cancer genomics, genomics in emerging health systems, and more.
DNA dialogue seminars are held live via zoom on the last Thursday of each month. Registration is open to anyone working in, or impacted by, medical genomics. You can register for this event here and we encourage you to spread the word about this series.
Register for the entire 2023 series of DNA dialogue here.
Subscribe to our newsletter to stay informed about future events.