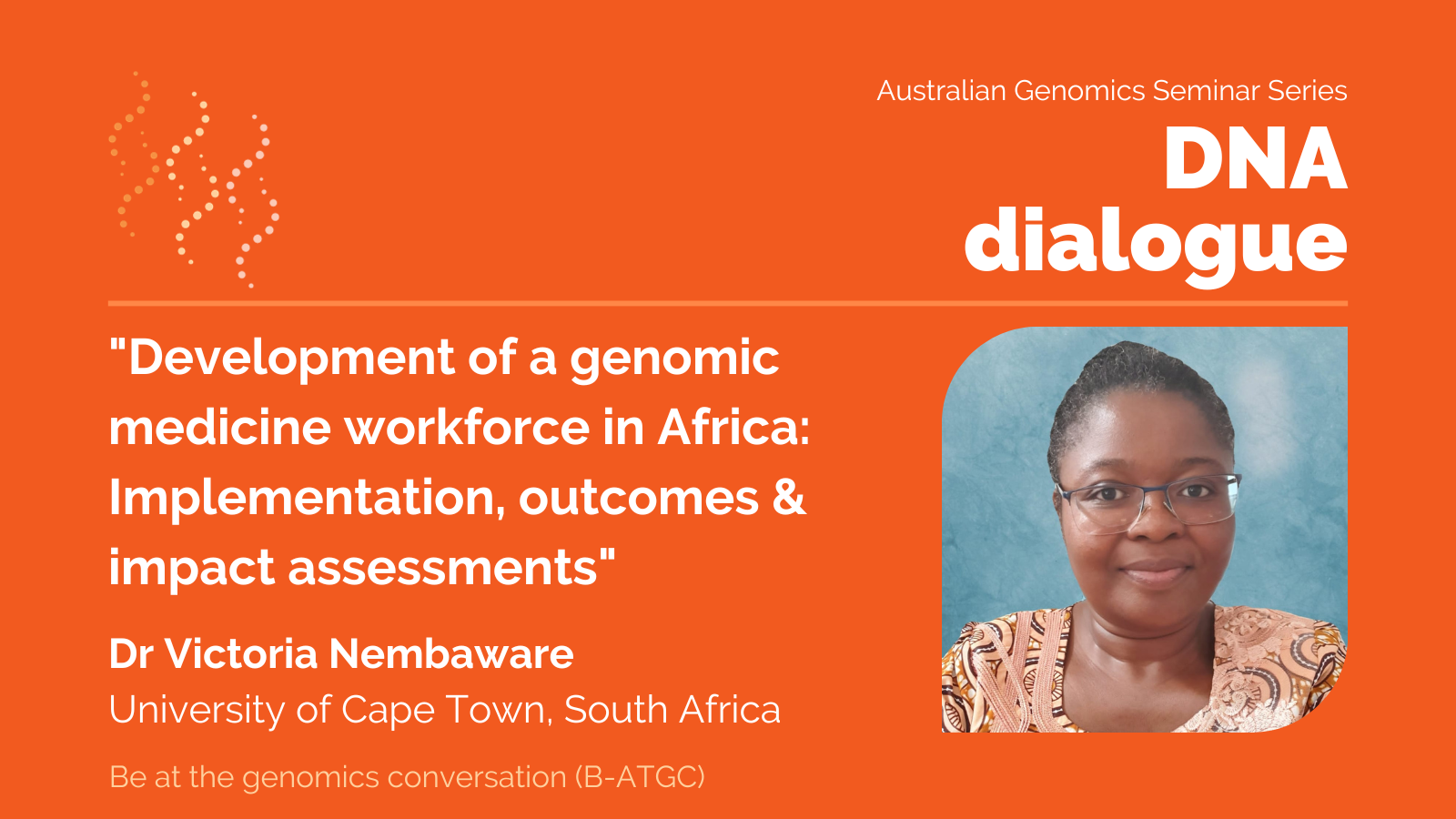 When    Virtual seminar on Thursday 7 December 2023, 4pm – 4.50pm (AEDT) 
Where    Online. Link will be provided in the registration confirmation email. 
Registration   Registration is free and available here.
---
Join Australian Genomics' DNA dialogue seminar, "Development of a genomic medicine workforce in Africa: Implementation, outcomes & impact assessments", featuring Dr Victoria Nembaware from the University of Cape Town in South Africa.
Successful translation of genetic and genomic evidence into clinical practice depends on training the healthcare workforce and clinical researchers in genomic medicine. Victoria will report on Pan-African efforts to develop a workforce in genomic medicine in Africa. She will highlight the implementation strategy, outcomes and impact assessments of one of their flagship training initiatives for nurses in Africa.
---
About the speaker
Victoria was officially appointed as the Project Manager for SADaCC in November 2017 after 4 years as the H3Africa training coordinator. She earned her first degree in Chemistry and Microbiology from the University of Cape Town and then graduated Cum Laude for her Hons and MSc degrees from the University of Western Cape (South African Bioinformatics Institute). Victoria was awarded a PhD in Bioinformatics in 2008 from the University of Cape Town. 
In addition to her didactic training in Bioinformatics and Monitoring and Evaluation, Victoria has research experience in Bioinformatics and in the Public Health field. She also has experience in designing, monitoring and evaluation of projects in the Information Communication Technology field (particularly in Mobile Health). Victoria has conducted numerous mHealth projects which include a public participatory project in the development of the South African National Strategic Plan on AIDS, TB and HIV (2012-2015). To this end, she is developing a mobile phone app in collaboration with members of the H3Africa consortium which is aimed primarily to train researchers how to engage and educate the general public on heredity and health in Africa. 
---
About DNA dialogue
With the wealth of genomic expertise internationally, this seminar series is a forum for members of the genomics community in Australia and beyond to learn of new developments in health genomics, and the overseas experience. 
The topics are diverse, including data sharing, ethics, carrier screening, cancer genomics, genomics in emerging health systems, and more. 
DNA dialogue seminars are held live via zoom and registration is open to anyone working in, or impacted by, medical genomics. You can register for this event here and we encourage you to spread the word about this series. 
Register for the entire series of DNA dialogue here. 
Subscribe to our newsletter to stay informed about future events.