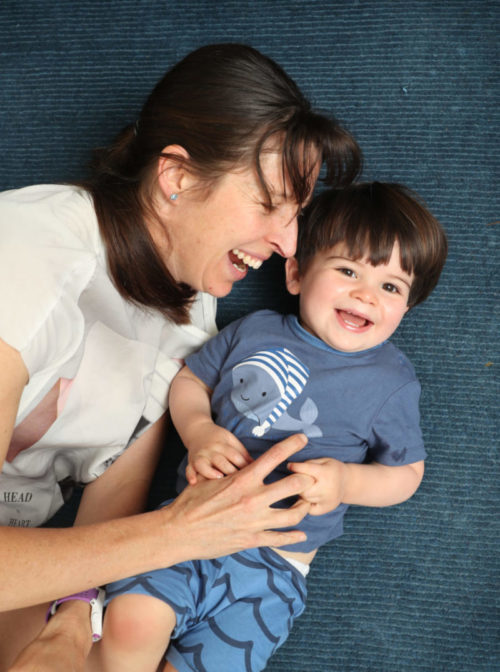 Joshua Stirling and his family were inducted early into the so-called diagnostic odyssey.
It began when the healthy baby boy was six months old and he had his first seizure. One month later he had a second one.
Before his third seizure Joshua had two scans – an MRI (Magnetic Resonance Imaging) and an EEG (electroencephalogram, which measures electrical activity of the brain) – to try to find what was causing them.
With no accurate diagnosis in sight, a lumbar puncture was being considered as the next option.
But after his seventh seizure – it was longer and more intense than the previous ones – Joshua was transferred to intensive care at Monash Children's Hospital. And that's when his diagnostic journey took a turn.
Specialists at Monash began to wonder if Joshua's condition was genetic. After discussions with his parents, Melissa and Matthew, the head of Paediatric Neurology at Monash Medical Centre Associate Professor Michael Fahey referred Joshua to an Australian Genomics study offering rapid genomic testing.
The Acute Care study provides genomic test results in less than five days for children in neonatal and paediatric intensive care units. A genomic test typically takes three to four months.
So it took Joshua's parents just three days to find out their son has Dravet syndrome, a rare genetic epileptic encephalopathy, caused by a change in the SCN1A gene.
The Acute Care project is led by Australian Genomics. The lead investigators are Associate Professor Zornitza Stark, clinical geneticist, and Dr Sebastian Lunke, clinical scientist, from the Victorian Clinical Genetics Services.
The implications of rapid screening in ICU are many: a timely diagnosis means doctors can better manage a condition; a diagnosis means no more invasive tests; and, if parents know what is making their child sick, they can better manage their child's health and plan for the future.
For Joshua's parents, finding out their son has Dravet syndrome was life changing.
Melissa says they immediately began looking at targeted treatment options and could avoid certain foods, certain medications, and triggers such as bright light, noisy environments and overstimulation that they knew made his condition worse.
They made lifestyle decisions – she gave up part-time work – and accessed support networks.
They developed a whole "tool kit" for managing Joshua's progress. It meant they could stop speculating about the cause, which in Joshua's case turned out to be genetic, and focus instead on managing his condition.