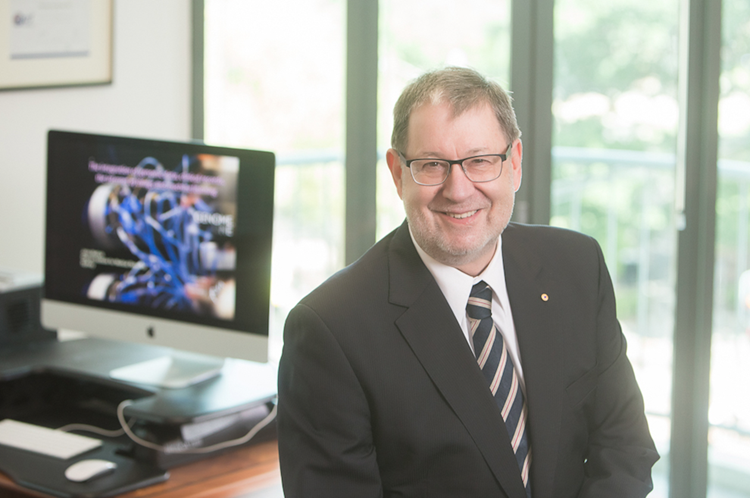 Story shared here with permission from the Garvan Institute of Medical Research. The original piece can be found on the Garvan Institute site here.
––––––––––––––––––––––––––
After more than six years as Executive Director, during which he has transformed the Garvan Institute of Medical Research into one of the world's leading genomics research institutes, Professor John Mattick AO FAA FTSE FAHMS will leave the Institute in June to take up the prestigious appointment of inaugural Chief Executive Officer of Genomics England, the world's largest clinical genomics initiative.
Dr John Schubert AO, Chairman of Garvan, congratulated Professor Mattick on the appointment and thanked him for his enormous contribution to genomic medicine, which he has led at Garvan since 2012.
In making the announcement today, Dr Schubert said, "Professor Mattick's important new role with Genomics England is international recognition of his success.
"Over the past six years, Professor Mattick, as Executive Director, has recruited to Garvan some of Australia's finest researchers in cancer, immunology, bone biology, diabetes and metabolism, neuroscience, and genomics and epigenetics. It is these talented researchers who, along with the new Executive Director, will maintain Garvan's current strategy and direction.
"Under Professor Mattick's leadership, Garvan's reputation for excellence, innovation and achievement has been enhanced. I am confident that the Institute will continue its pioneering role in unlocking the power of precision medicine through genomics. This will be made possible by the focused and talented team at Garvan."
In announcing the appointment Professor Mattick commented, "The decision to leave Garvan was not easy; however, given the existing partnership between Genomics England and Garvan, our collaborations will continue to develop. Garvan's researchers are some of the best in the world and they are well placed to continue to have a major impact on medical research and human health."
Dr Schubert said, "Garvan has globally outstanding internal succession in place. Given the importance of the role, and as a matter of due diligence, an international search is also underway to identify additional candidates for possible consideration. The Board will make an announcement regarding the new appointment in due course."