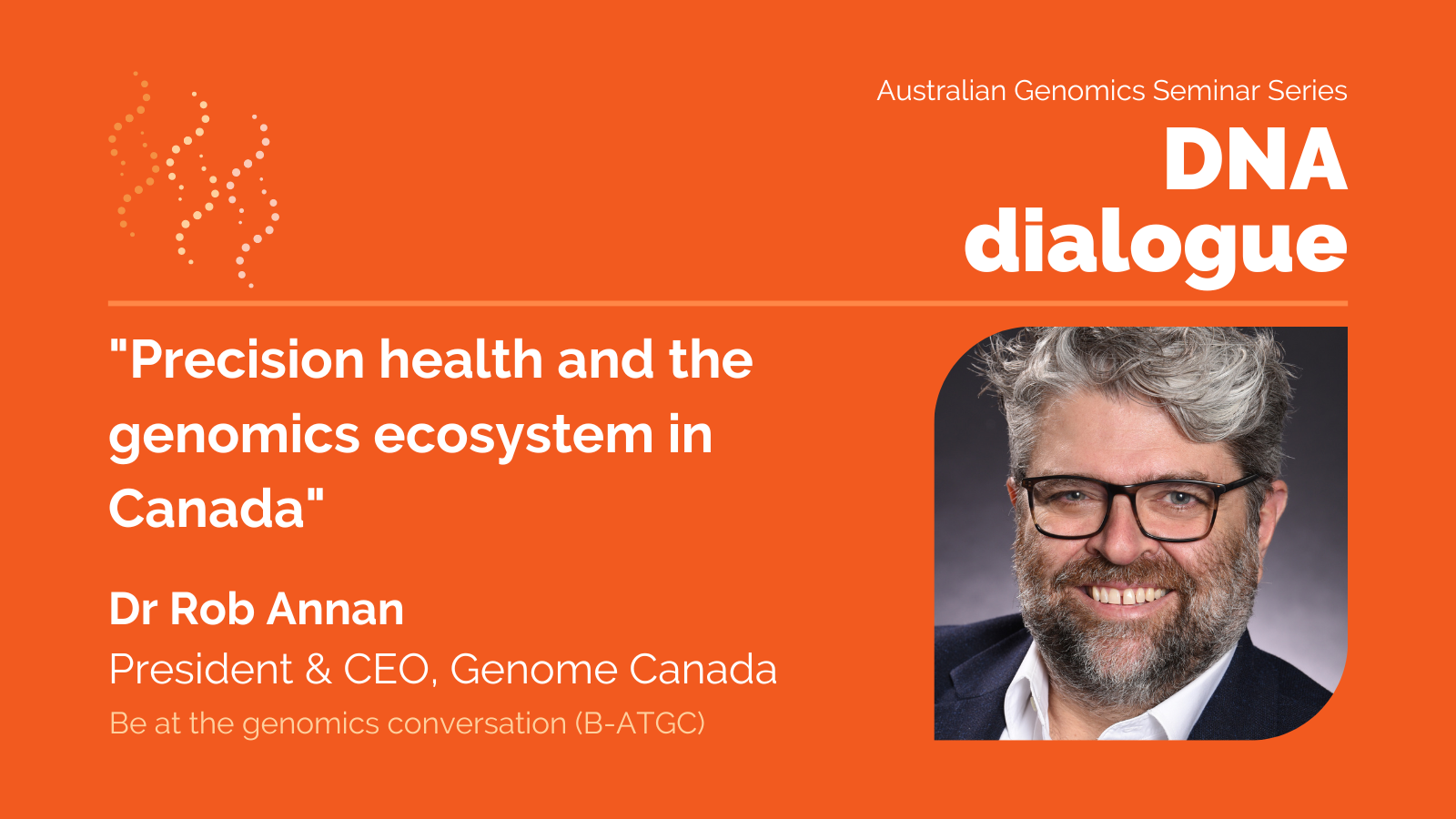 When    Virtual seminar on 25 August 2022, 8am – 8.50am
Where    Online. Link will be provided in the invite.
Registration   Registration is free and available here.
---
Join Australian Genomics' DNA dialogue seminar for August: "Precision health and the genomics ecosystem in Canada" featuring Dr Rob Annan from Genome Canada.
Genomics is helping us tackle the greatest health challenges of our time, driving life-saving breakthroughs and unlocking revolutionary advances in personalized medicine. With a track record spanning more than two decades, Genome Canada's investments and collaborations in human health genomics are speeding up diagnoses and improving health outcomes and disease management for Canadians, and addressing major public health challenges such as COVID-19 by improving the understanding of its transmission and distribution.
Genome Canada is focused on harnessing the power of genomics to strengthen public health and shift from a disease-oriented healthcare system to one that is more precise, personalized, predictive, preventative and cost effective. To do so, however, key challenges such as barriers to data generation and data sharing must be addressed. The presentation will focus on learnings from two efforts led by Genome Canada: All for One, a precision health initiative for patients with rare diseases, and the Canadian COVID-19 Genomics Network, a coordinated pan-Canadian, cross-agency network for large-scale viral and human genome sequencing during the pandemic.
---
About the speaker
Dr Rob Annan has more than a decade of success leading research and innovation organizations. As President and CEO of Genome Canada, he combines a background in genomics research with deep knowledge of science and innovation policy and a proven track record in corporate strategy. He has been involved in Canadian science policy in numerous capacities, including through executive leadership at Mitacs, where he served as Chief Research Officer. Rob is committed to translating ideas into impact. A strong believer that science and innovation—when equitably applied—can make life better, he works with researchers, policy leaders and industry across Canada and internationally to help realize the economic, environmental and social benefits of genomics.
---
About DNA dialogue
With the wealth of genomic expertise internationally, this seminar series is a forum for members of the genomics community in Australia and beyond to learn of new developments in health genomics, and the overseas experience.
The topics will be diverse, including data sharing, ethics, carrier screening, cancer genomics, genomics in emerging health systems, and more.
DNA dialogue seminars will be held live via zoom on the last Thursday of each month at 8am (AEST). Registration is open to anyone working in, or impacted by, medical genomics. You can register for the event here and we encourage you to spread the word about this series.
Subscribe to our newsletter to stay informed about future events.